experience & qualifications
Kirsty is a fully qualified and accredited Dog Behaviour Consultant, Dog Trainer, Puppy Trainer, Karen Pryor Academy Puppy School Instructor, Canine Massage Therapist, Certified Bite Prevention Educator, Canine Holistic Health Therapist, Certified Canine Enrichment Technician, Certified Fear Free Animal Trainer, a 'Be a Tree' programme educator (teaching children how to behave around dogs) and a certified Acute Herbal Specialist. She has worked with dogs for over 20 years, 16 of those as a behaviourist.
Upon leaving school Kirsty started work at a local RSPCA centre as an animal care assistant. During this time Kirsty dealt with a variety of cases, including extreme cruelty, neglect, malnourishment, and abandonment. She worked with dogs suffering with severe aggression and anxiety. She gained valuable experience from working with qualified vets and trainers and she also obtained various qualifications including animal handling, first aid and nutrition, she was trained to administer vaccinations and microchipping. She was involved in the whole rehabilitative process, which led to dogs finding new homes.
Behavioural Science
Kirsty's fascination and passion grew in relation to how dogs behave. At that time there weren't many dog behaviourists and what would now seem obvious behavioural problems, would go undiagnosed with dogs being rehomed to inappropriate houses and people living with difficult situations, instead of using some of the knowledge, techniques and behavioural science that are used today, to help people to correct the problems.
extensive experience
Modern, positive training
After leaving the RSPCA Kirsty went to work in the French Alps to train Siberian Husky dogs. She found that watching and training dogs in their natural setting was both fascinating and rewarding. This experience reinforced her desire to become a behaviourist.
After leaving France Kirsty gained further experience working for another RSPCA centre, where she carried out all manner of duties but she also specialised in looking after the new born and abandoned puppies. Kirsty progressed to managing a large Kennels and Cattery, which had its own challenges.
Kirsty obtained her formal qualifications in Canine Behaviour, Dog Training and Merisha Canine Massage Therapy. She then started Kirsty's Pet Clinic.
Kirsty has extensive experience working in animal rescue centres as a behaviourist, rehabilitating some of the most challenging dogs, to prepare them for a new life in their forever home.
Kirsty has worked as a Behavioural Consultant for 2 RSPCA centres and Wolfwood Animal Rescue Centre in Lancaster, which she still does referrals for.
Kirsty's qualifications
Advanced Higher-Level Diploma in Canine Behaviour
Diploma in Dog Training
A Certified Fear Free Professional Animal Trainer
Certified Canine Enrichment Technician DN-CET
ADTB Instructor (The Academy Of Dog Training And Behaviour)
Karen Pryor Academy (world renowned for Animal training and Behaviour) Puppy School Start Right Preschool Instructor
Diploma in Puppy Behaviour and Training
Certified Bite Prevention Educator (educating people on reading dog's body language and how to avoid dog bites)
Master Course – Aggression in Dogs (Michael Shikashio, Kim Brophey and Dr.Chris Pachel)
Accredited in Advanced Canine Reactive Behaviour
'Be a Tree' Programme Educator (Educating school children and families about how to behave around dogs)
Merisha Canine Massage Therapist
Diploma in Holistic Health (holistic health can work well alongside behavioural modification)
Certified Acute Herbalism Specialist.
Professional Memberships
The Pet Professional Guild British Isles, UK DOG Behaviour & Training Charter, Grisha Stewart Academy of Dog Behaviour, Dunbar Academy, Founding Member of the Dog Pro Support Circle, The International Companion Animal Network, The Dog Welfare Alliance, Sarah Whitehead's Inner Circle, The International Association of Animal Behaviour Consultants, Doggone safe, RCDTBP (The Registration Council for Dog Training and Behaviour Practitioners), DNM Elite, Pet Industry Advocacy International.
Kirsty's key focus is to use modern positive training to help both people and their dogs to interact with one another, in a harmonious and happy way, within the family unit and also whilst out walking or in a public environment.
During Kirsty's time as a behaviourist, she has developed a training programme for the Youth Offending Team in Lancaster, which involved children training rescue dogs, which was not only beneficial for the dogs but also to the children, who gained valuable experience and confidence.
Kirsty also receives referrals from various rescue centres, veterinary practices. She has also been instructed by Social Services to prepare reports in relation to foster care cases.
continuous Professional Development
As a Qualified and Accredited Dog Behaviourist, Kirsty continually keeps on top of new scientific research and practical learning by doing frequent courses in higher education, seminars, webinars. Some of these include Sarah Whitehead (Clinical Animal Behaviourist), Dognostics Education, Susan Friedman (Psychology Professor that's pioneered the application of Applied Behaviour Analysis), Dr Ian Dunbar, IMDT (a variety of courses from highly regarded tutors including Steve Mann), Canine Principals, The Canine School of Science, Grisha Stewart (Author of Behaviour Adjustment Training), IAABC, Victoria Stilwell, Jo-Rosie Haffenden, Toni Shelbourne's Tellington TTouch for Calming, Kathy Sdao, Michael Shikashio, Kim Brophy (Applied Ethology and Aggression) and Dr Chris Pachel.
Kirsty Also holds a level 3 people counselling skills course, which has proved helpful when understanding the family dynamic and its impact upon the dog's behaviour. Kirsty regularly makes special family programmes, teaching children how to feel confident and not to feel fearful around dogs. This is done through fun creative games and activities.
Kirsty's Dogs
Kirsty has 3 children and understands the importance of fully integrating your dog within the family setting. Kirsty also shares her life with a cross breed dog called Agnes, who is a much-loved addition to the family. Prior to this Kirsty has owned three rescue dogs, one of which was a lurcher called 'Boo', who lived happily with a house rabbit. This showing that contrary to some beliefs, that all types of dogs, with the right knowledge and techniques, are capable of being trained. One of Kirsty's other rescue dogs was an Australian Cattle dog called 'Blue'. He had been rescued from appalling conditions and had been treated extremely cruelly. He had never been on a lead, never been in a house and was very anxious around people and dogs. With a lot of patience and hard work he became a wonderful dog, well behaved, loving and loyal.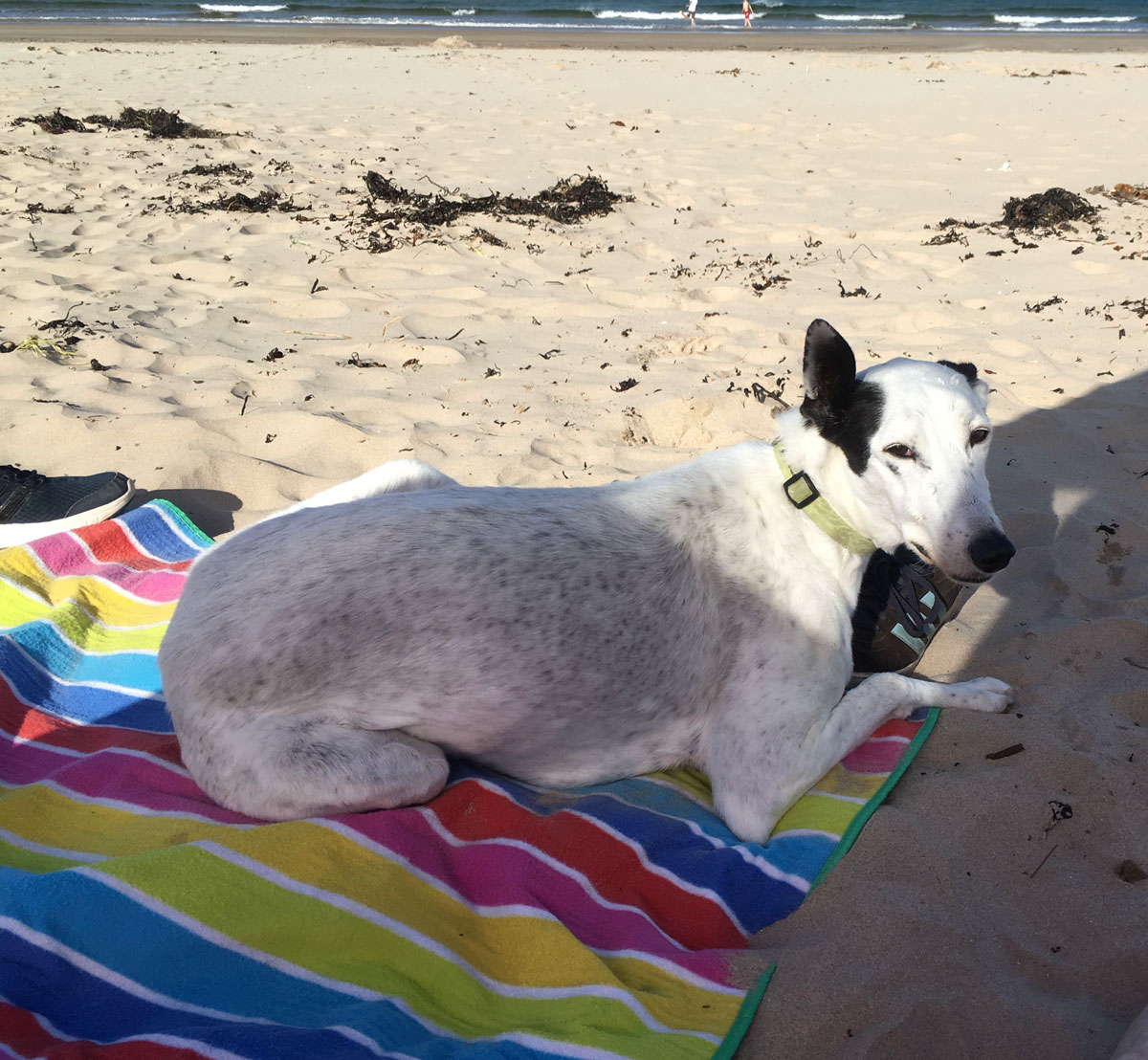 companionship
companionship
Kirsty's third rescue dog was a beautiful French Bull dog, called Pepe, who had been rescued by the animal charity, Wolfwood. She had been used for breeding and then abandoned. With nurturing and lots of love, she too fitted in extremely well into Kirsty's home alongside the other two dogs and although an odd mix of breeds they became very close
empathy & understanding
Bespoke tailored solution
Kirsty is a highly experienced behaviourist with all breeds of dogs from Chihuahua's to Great Danes. Kirsty can empathise with the struggles that people are going through, having experienced many of them with her own rescue dogs. This included lead reactivity, separation anxiety, not coming back off the lead and noise phobias to name but a few.
Kirsty understands that no two dogs are the same, which is why she prepares a bespoke, tailored solution, adapted to the individual circumstances of each owner and dog. This requires the ability to sometimes think outside the box and to a have a genuine understanding and empathy to each person's situation. Owning a dog can at times be challenging but with the right training, guidance, and advice it can be extremely rewarding.
Kirsty is a very patient and relaxed person who is down to earth, non-judgemental and can adapt to any situation you find yourself in. Kirsty uses modern training techniques with positive reinforcement. Kirsty does not believe in the use of negative and old-fashioned training techniques such as electric collars, shouting, smacking, choke chains or water pistols.
Kirsty is always realistic with her clients and will help to you to understand your dog's behaviour. She will provide you with guidance and an easy-to-follow training plan that will fit in with a person's day to day life. She is always on hand for any questions and will help you with each step along the way.
Kirsty's prices reflect the need to help people and therefore makes training available to everyone. Having come from a rescue centre background her goal is to always prevent a dog from being rehomed and to give people the help that they need.
Get in Touch
If you have any questions or want to have an informal chat please contact Kirsty.